Update: Creative Imaginings Lynn
Since we first announced our NEFA-funded grant project with Creative Collective, Daveth Chet, OOMPA, and Ramon Santiago earlier this year (see below), we have continued to build our database of Lynn based artists, and begun holding one-on-one and small group conversations with artists identifying as BIPOC to learn more about their experiences and the barriers they have faced, and continue to face, while pursuing art opportunities here in Lynn.
We have also launched a Spanish version of the survey, encouraging any Latinx artists who are from Lynn, hold space in Lynn, or practice in Lynn to be part of this process. Both surveys will be available throughout this grant project. Please share with your Lynn artist friends, family, colleagues, and neighbors to participate!
To access the Spanish survey, go here: https://creativecollective.typeform.com/to/oFOs6bEd#exit=xxxxx
We are hoping to organize a couple of events, specifically for BIPOC artists later this spring. Stay tuned for more info soon!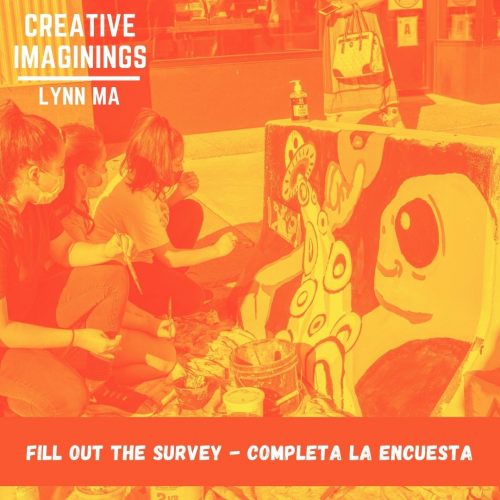 BIPOC artists in Lynn are integral to the social fabric of our city. Currently, barriers to collaboration exist between BIPOC artists and municipal and organizational leaders who are the stewards of funding, visibility and permissions. BIPOC artists, in collaboration with the Lynn Museum/Lynn Arts and Creative Collective, will examine these barriers and reimagine opportunities to foster trust and accountability with municipal and organizational leaders. By centering the voices of BIPOC artists from Lynn, this collective imagination journey aims to envision ways for diverse artistic and cultural expression to not only exist, but to truly thrive in Lynn.
Lynn Museum/LynnArts is pleased to be collaborating with Creative Collective, Daveth Chet, OOMPA, and Ramon Santiago on this project, generously funded by a Collective Imagination for Spatial Justice grant from New England Foundation for the Arts (NEFA).
As part of our project, we are building a database of Lynn based artists. Any artist that currently resides in Lynn, practices in Lynn, or holds studio space in Lynn is encouraged to complete our survey: https://creativecollective.typeform.com/to/bUZzKtfa#exit=xxxxx