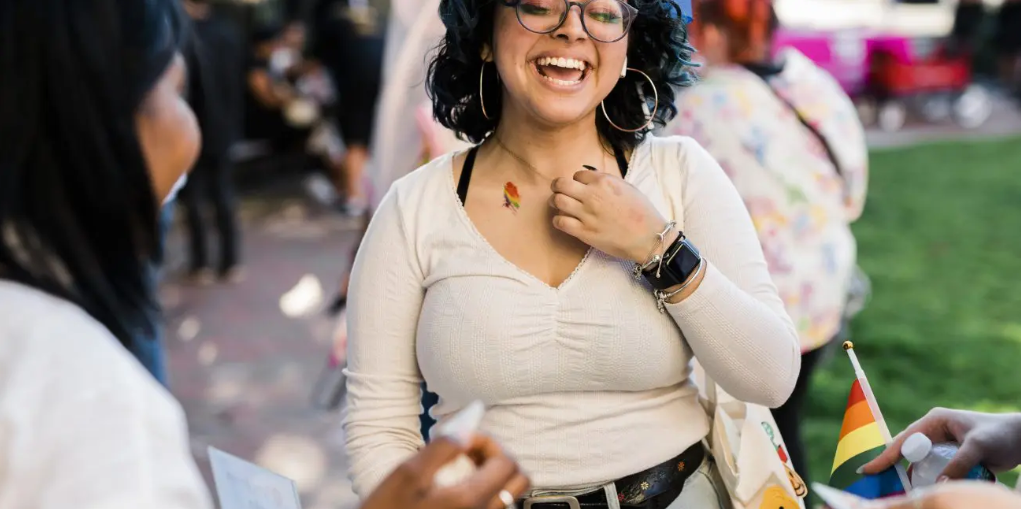 Lynn hosts Pride in the park
By Anthony Cammalleri
Published by The Daily Item on June 24, 2022.
LYNN — United Lynn Pride, in association with the Lynn Museum/LynnArts program, held its first Youth Pride celebration at Frederick Douglass Park Friday night.
In front of the "Stories of Lynn" mural in the Frederick Douglass Park, local rock band Mother Aidan performed below an arch of rainbow balloons. At the Lynn Museum courtyard, children played horseshoe and bounced in a Justice League bounce castle.
Lynn police officers Ed Barrasso, Ken Pedone, and Kaylin Deschenes stopped by to show their support and enjoy some popcorn and cotton candy, and state Rep. Pete Capano walked around talking to vendors and party-goers.
"I think it's great, you know, there's great diversity in the city, and people who can organize events like this to show diversity," Capano said. "Any time you can get people together like this, in general, it's great. It's great to see the downtown being used, to see the space being occupied, and the promotion of diversity I think is great for the city."
Capano commented on the Roe v. Wade ruling, saying that events like the Youth Pride celebration are a great way for the community to keep moving forward.
"I think people should continue to do what they do. I think the decision today was disgraceful. You can't regulate guns, but you can regulate women's bodies, that really doesn't make a lot of sense, but you continue to move forward, and hopefully progress will continue in ways that it's lacking right now," Capano said.
The band, Mother Aidan, also talked about the Supreme Court's decision to overturn Roe v. Wade. Guitarist Aidan Bonner said that he hopes live music will provide a form of catharsis for the community.
"In the broader sense of things that have happened today in the news, I think everyone here is hurting, and at some level, it must be good to have some catharsis and tension release cause we're a rock band," Bonner said.
Bass player Lena Faeskorn said that she too, saw music as a mode of healing after the loss of Roe v. Wade.
"I see both playing and listening to music as an outlet, so as unfortunate as the news was today, it's almost good timing to have an event like this to let it out. It's for us to play and everyone else to listen," Faeskorn said.
City Councilor Coco Alinsug walked around smiling and taking photographs with police officers and community members. Alinsug said that he was glad to see so much support for youth Pride.
"I'm the first openly gay city councilor in the history of Lynn, so, for me to have a whole week of celebration around Pride, it's a recognition that the city is now open and accepting, and that our city is growing," Alinsug said.
Alinsug also said that he remembered a time when queer folks in Lynn had to hide to avoid persecution. He said that he was happy to see the end of that era.
"I moved here 20 years ago, and I've always been active with the LGBT community, but as a city, I remember, there was no Pride, there were no events, but there was a gay bar where we all hung out in secret, because it was the only time we were not bullied," Alinsug said. "That was a sad moment in our city and the country's history. But now to have this openly, and to see parents bringing kids, it's just an amazing moment, and we've come a long way."
Anthony Cammalleri can be reached at anthony@itemlive.com.
https://www.itemlive.com/2022/06/24/lynn-hosts-pride-in-the-park/
Photograph by Spenser Hasak.