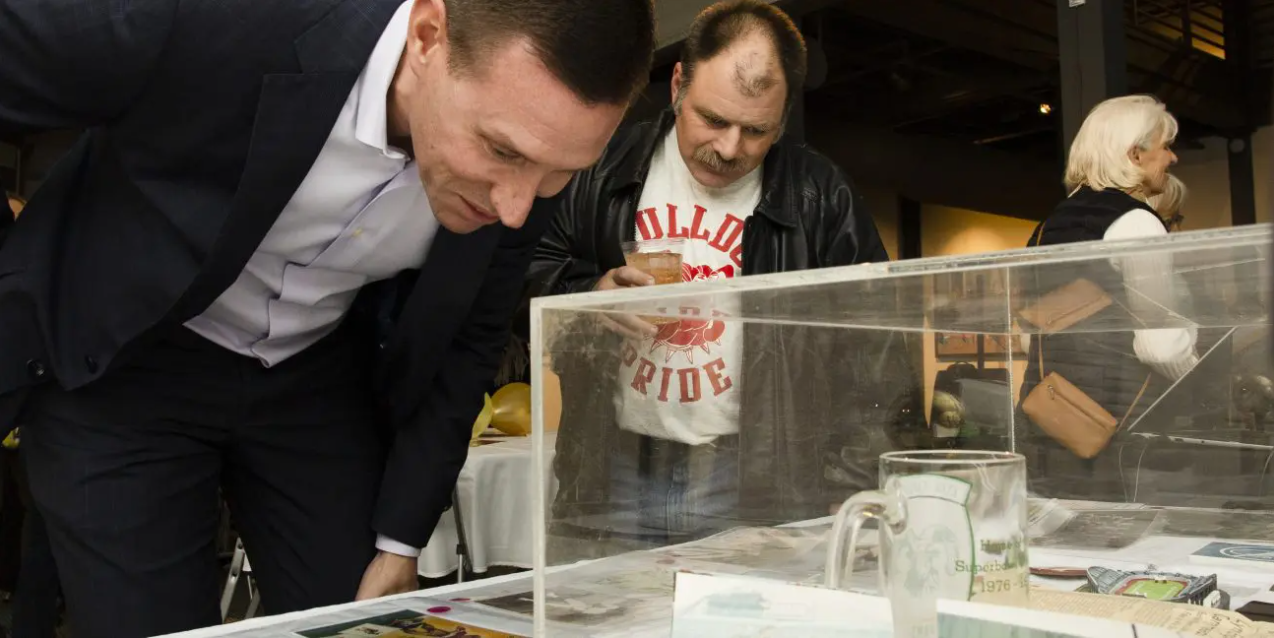 LYNN MUSEUM CELEBRATES 109TH CLASSICAL/ENGLISH GAME
By Joey Barrett, Daily Item, November 21, 2022.
When someone walked into the Lynn Museum on Monday night, it was almost a guarantee they'd know someone.
Ahead of the 109th Thanksgiving Day game between Lynn Classical and Lynn English, the Lynn Museum, in the midst of its 125th year, launched an event to celebrate the longstanding tradition between the Rams and Bulldogs.
With its first annual label, the evening was an opportunity for alums of both schools, as well as members of the community, to gather and reminisce. And for former players, it was a chance to look back to the past in dress shoes, not football cleats.
There were two tables featuring merchandise and memorabilia from the rivalry's past. On Classical's end, items included Rams legend Stuart Primus' varsity jacket with a "Do-it-Stuart" label, a newspaper clipping from 1944 about the rivalry, and photographs of cheerleaders at the original Manning Bowl.
On the English end, there was an official souvenir from the 1994 game – one that cost 25 cents at the time – sweater pins from decades' past, and a trophy given to J. Edward McElligott, a legendary announcer who's considered "the voice of Manning Bowl" for his 32 years of service. Items on both ends were provided by the Lynn Museum as well as members of the community.
Behind the tables was a slideshow featuring pictures of the rivalry. From people glancing at a team picture they were once part of, to pointing at the screen in recognition of something, eyes couldn't stay off the screen.
It was then time for music as the Lynn Public Schools All-City Band performed some of their most beloved songs that so many have heard on Friday nights. After performing the fight songs, as well as "Sweet Caroline" and the "Pirates of the Caribbean" theme, the band received a strong applause ahead of their big day on Thursday.
With food, drinks, balloons of both Classical gold and English maroon, and live music provided, Lynn Museum Executive Director Doneeca Thurston said the evening was about connecting members of the community.
"It was just an amazing opportunity to get people together to celebrate the event," Thurston said. "This [Classical vs. English] sets the tone for Thanksgiving dinner on Thursday."
Thurston stayed in contact with Primus, who helped organize the evening, after a Classical 5 event last year. Understanding the tradition is a part of the city and one that doesn't happen everywhere, the event was created.
Primus, who played for Classical from 1978-1980, still remembers his Thanksgiving Day games in front of 12,000 people at the Manning Bowl.
"This is our Super Bowl. Nobody cared about anything else," Primus said.
As for being a co-organizer of the event, Primus said it's about bringing together gold and maroon, as well as finding connections throughout the room no matter how unexpected they might have been five minutes before.
"This is a Lynn unity event. We want to go across the aisle," Primus said.
Photo credit: State representative Dan Cahill and Jamie Floyd check out a table filled with English memorabilia. (Libby O'Neill).