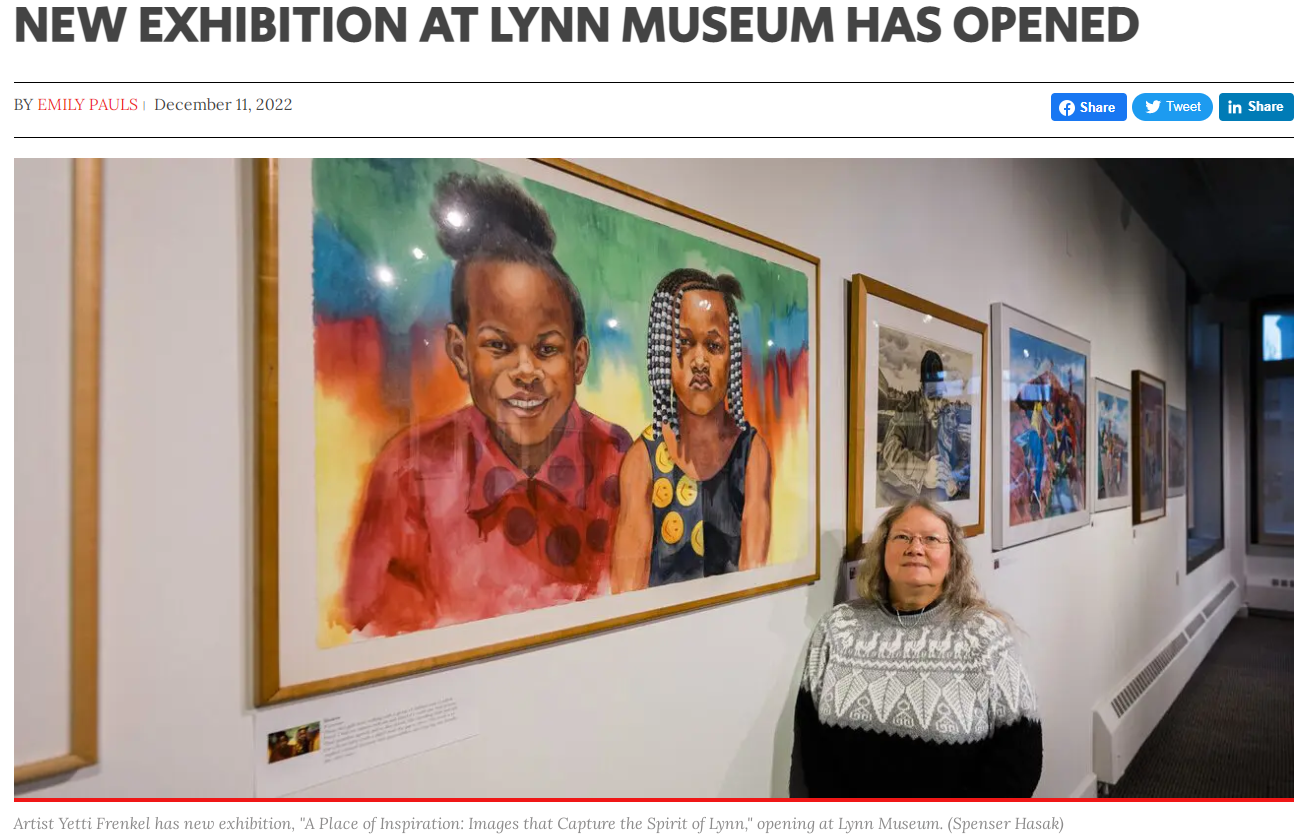 NEW EXHIBITION AT LYNN MUSEUM HAS OPENED
BY EMILY PAULS | Daily Item | December 11, 2022
LYNN — The Lynn Museum and Historical Society has welcomed a new exhibition from local artist Yetti Frenkel called, "A Place of Inspiration: Images That Capture The Spirit of Lynn, a Retrospective of Work." The art in the exhibition represents 40 years of Frenkel's work taking place in Lynn.
"I grew up in Lynn and I've always used Lynn as my inspiration," Frenkel said. "I used to sit in my car or on the street and sketch, one of the sketches from the courthouses, I used to go to courthouses and draw people before they went in to see the judge. And I've also gone to the racetrack and sketched."
Some of her paintings and sketches also come from pictures she's taken or scenes she observed and had her friends recreate.
The work of the Ashcan School, an artistic movement from the late 19th century that depicted scenes of everyday life in New York, is something that inspired her. The way writers approach their work is also something that inspired her, she said.
"Some of the best writing by writers is they write about what they know and I sort of thought that was what I wanted to paint," Frenkel said. "I approached my artwork, essentially almost like a writer, and I'm looking for the story in an image."
One of the watercolor paintings titled "Sisters," shows two girls, one smiling and one not. She saw them one day near Goldfish Pond and asked if she could take their picture which their guardian agreed to.
"The unsmiling child had just lost a front baby-tooth and didn't want the gap to show. The result is an implied contrast between their personalities; one outgoing and friendly, the other wary," the description under the painting read.
Another piece called "Outbound," which was drawn with colored pencil, shows a person laying dead and another person walking away from the body. A friend of hers posed for it based on something she saw on a Lynn commuter rail platform.
"It's my lament to the tragedy of addiction," the drawings description read. "There are dual statements in the scene; one about the death of a young man, the other about the woman walking away in the background. Does she not know what has happened, or has she stopped caring?"
The rest of her pieces range from watercolor paintings, oil paintings, conte crayon on toned paper, lithograph crayon or a combination of those things.
Executive Director at Lynn Museum Doneeca Thurston said over the last few years the museum has been curating their exhibitions by working with the public. Frenkel already has some of her work in the museum and Lynn is "near and dear to her heart" so it felt "fitting" for them to work with her.
"A lot of these pieces she told me, some of them have not seen the light of day outside of her storage … some of these works I've never personally seen before, and it really showcases sort of how her artwork and her creativity has sort of evolved, but really showcases how her love of Lynn and her views of Lynn have really inspired her artistry," Thurston said.
The colorfulness of Frenkel's paintings is what stands out to Thurston.
"We are such a diverse community and I think that's really emulated in her work and it's sort of just everyday scenes that you may not think are that miraculous … just sort of captures that everyday spirit and the different people and characters that are part of our community," Thurston said.
While there's no set end date, she said the exhibition will remain in the museum until at least the end of February or beginning of March.