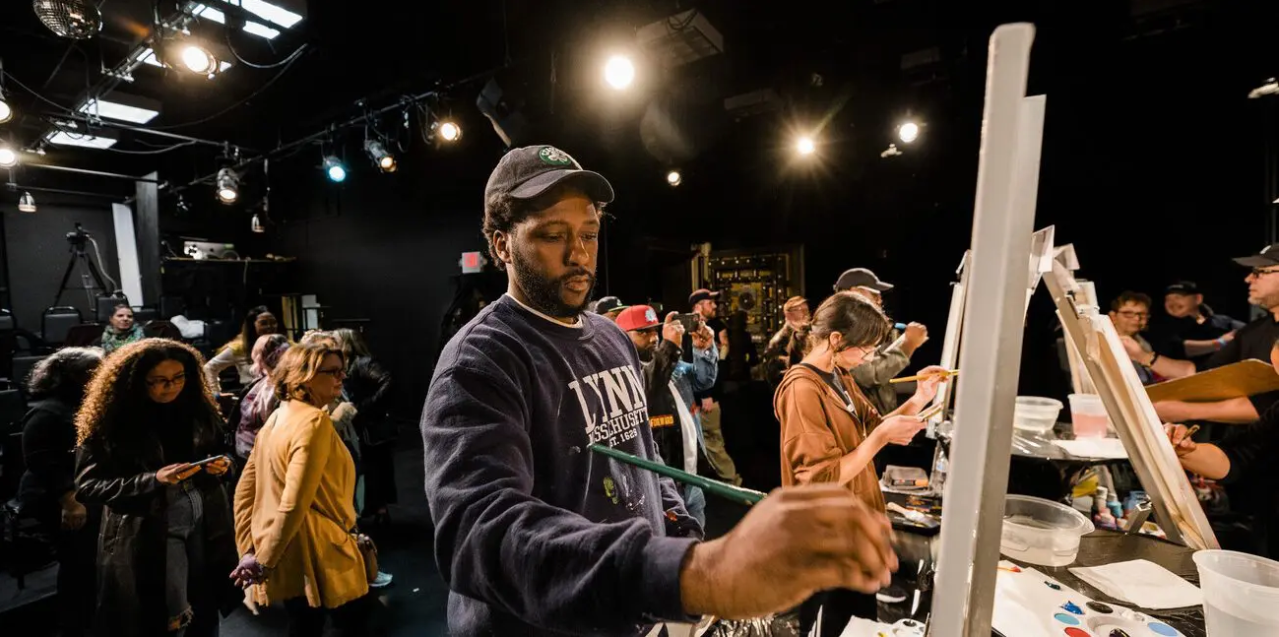 LYNN HOLDS FIRST EVER ART BATTLE
Lynn artist Michael Aghahowa lays down a base for his painting in the first round of the Lynn Art Battle at the Neal Rantoul Vault Theatre. (Spenser Hasak)
BY RYAN VERMETTE  |  The Daily Item  |  April 9, 2023
LYNN – Over the weekend twelve local artists, including four from Lynn, participated in the city's first ever Art Battle at the Neal Rantoul Vault Theatre in the Lynn Arts Building.
Art Battle, which has held events in over 50 cities worldwide, involves live competitive painting where artists have only 20 minutes to produce the best work possible.
Artists competed in three rounds as the audience observed and acted as judges, determining the winner of the contest. The field was narrowed down after the first round, and only two made it to the final.
Wearing a sweatshirt with "Lynn" embroidered on the front, Michael Aghahowa walked into the contest with some added inspiration, his newborn daughter.
In the first two rounds, he painted portraits of her, and he advanced to the third and final round. Ultimately Aghahowa, who was born and raised in Lynn, won the very Art Battle held in his hometown.
"It's the first ever Art Battle (in Lynn), and I get to tell my daughter that she helped win the Art Battle," said Aghahowa in an interview.
The other contestants from Lynn included Jah'Nyah Spencer, Ramon Santiago, and Bradley Nicosia. Other contestants came from surrounding communities like Salem.
Aghahowa said it was an honor competing with so many talented artists.
"It was honestly really cool. It was my first time participating in Art Battle," he said. "I was really just happy to be around all the talent. It was cool to just be a part of the event."
With so many local artists competing, the event served as a platform for competitors to showcase their artistic ability in a community that Lynn Music Foundation Executive Director Edwin Cabrera said has become a hub for arts and culture.
"A lot of the artists that we have that are competing in Art Battle, a lot of them are the key artists that has made Lynn the art renaissance that it is," Cabrera, who organized the event, said.
Cabrera referred to Spencer and Aghahowa, who have led the way for different art projects and organizations in the city like Raw Art Works and Beyond Walls.
In addition to the artists, there were five musical performers, all of whom are based in Lynn: Nia Suhn, KMF Tre, Kashi 2x, Jay Moon, and Dionys. The five performers further showcased the artistic movement and growth that the city is seeing.
"We've had pretty good visibility the past few years as far as the arts and culture scene," said Cabrera. "I think Lynn's really starting to be recognized as that exactly. That's kind of become our identity, the fact that we are sort of an artistic city."
Aghahowa said that he was pleased with the turnout at the event, adding that it was great to see so many people come out to support local artists and take an interest in their craft.
"To see that space activated, it's a space in Lynn that people can go to and have something to look forward to, like really cool artistic events that get people engaged," Aghahowa said. "The event was just really exciting, it was a really good turnout."