M.E.S.A. (Museum Enrichment Series for All)
Join Lynn Museum/LynnArts on the second Wednesday of each month at noon for M.E.S.A. (Museum Enrichment Series for All). Covering various topics such as wellness, genealogy, and current events, hear from local experts, community members, Museum staff, and others during this virtual lecture series.
In honor of Women's History Month, author Patricia Scangas, writing under the pen name Patricia Menton, discusses her book "The Case of Emil Diesel." A native Lynner, Ms. Scangas will share her family and husband's family stories and the research she conducted for her first novel.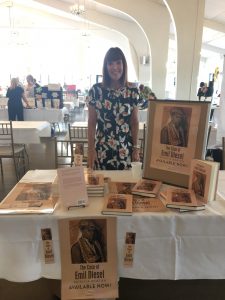 The conversation will take place over Zoom and live-streamed to Facebook.
This program is supported by a grant from the Lynn Cultural Council, a local agency supported by the Mass Cultural Council, a state agency.