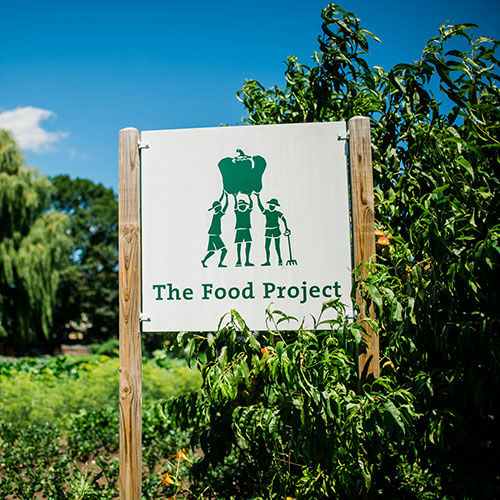 M.E.S.A. (Museum Enrichment Series for All) featuring The Food Project
Join Lynn Museum/LynnArts on the second Wednesday of each month at noon for M.E.S.A. (Museum Enrichment Series for All).
Since its founding in 1991, The Food Project has grown into a nationally recognized, non-profit organization that works at the intersection of youth, food, and community. Young people are the driving force of The Food Project and work on their farms and with community members to realize the right to food that nourishes our communities and the planet we share.
Join us for this conversation with Ludia Modi and Merli Pacius about their vital work with youth and the community in the City of Lynn. The discussion will take place over Zoom and live-streamed on Facebook.
Ludia Modi (she/her/hers) is The Food Project's North Shore Regional Director, an alumna of The Food Project's North Shore youth programs, and served professionally as a Youth Development Specialist and Food Corps supervisor. Ludia brings a background in nonprofit leadership and community partnerships from past positions at City Year Boston and various human service agencies, as well as a Masters in Nonprofit Management from Northeastern University. Ludia has stepped into the role of Regional Director with a deep understanding of The Food Project's culture, the opportunities and challenges faced by the North Shore community, and a talent for building, developing, and leading diverse teams with a mission-driven and detail-oriented approach. Outside of work, Ludia loves going on long walks with her dogs, crocheting, and eating delicious food at local restaurants.
Merli Pacius (she/her/hers) has been working with the Food Project for about four years. She has completed various youth programs at the Food Project. In addition, she's participated in workshops revolving around social justice and food systems and helped farm the land and distribute produce made on the Food Project's farms. Merli currently works as a Food Access Fellow at the Food Project, supporting The Food Project's resident engagement model Lynn Grows, the Salad Days program in Lynn public elementary schools, and cooking classes in collaboration with KIPP Academy. She likes to watch anime, listen to music, cook pasta, and play video games in her free time.